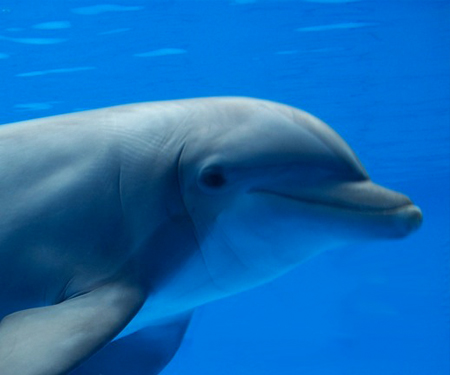 Dolphins:
Dolphins never fail to enchant us with their friendly curiosity, charming playfulness, and graceful demeanor and coming close to these magical creatures is an experience that will stay with you for a long time. Dolphins are among the planet's most intelligent animals and the relationship between humans and dolphins goes back hundreds of years. They are social creatures, just like us, and eager to make new friends, both among their own species and with you! Nobody is left untouched when being face to face with a dolphin and playing in the water with these lovely animals. Our dolphins have charmed visitors from all over the world and we believe that everyone should have the special treat of shaking hands with one of mankind's most beloved animals!
Our Tours:
We offer a variety of tours and we are sure that one of them will be just perfect for you and your family. We offer dolphin swim tours epically designed for kids to make the interaction between our little customers and our dolphins as playful, safe and fun as possible. But regardless of whether you are a child, a teenager, or an adult, we invite you to swim with our dolphins, play with them, and learn about their life, anatomy, and behavior. Professional trainers are always present to make sure that everyone, humans and animals, has a wonderful, safe, and fun time. And if you want to learn more about the dolphins' amazing learning capabilities, join our staff of dolphin trainers and be a "trainer for a day." Nobody should miss out on the wonderful experience of getting to know a dolphin, which is why we offer a variety of tours for people of all ages and levels of comfort in the water. We are proud of our dolphin expertise and our commitment is to bringing dolphins and people together to educate and inspire.
Our Mission:
We believe that a vacation in paradise can never be complete if you have not yet met the wonderful dolphins that are at home in your vacation destination. Many vacation tour providers offer opportunities to go out on the water to watch dolphins from a distance, but we want to bring you closer and enable you to experience the joy of befriending a dolphin. There are not many animals that are this friendly and playful when around humans and we just know that our dolphins love to meet our visitors because they always make sure that their new friend comes back! They greet you with a handshake and perhaps even a hug and will be happy about a backrub and a kiss! Get ready for some real quality time because our animals love to play! And on top of it all, our experienced trainers will share with you their vast knowledge of the lives, behavior, and habitat of dolphins. They will be more than happy to answer all your questions about your new best friend. Education has never been this much fun!